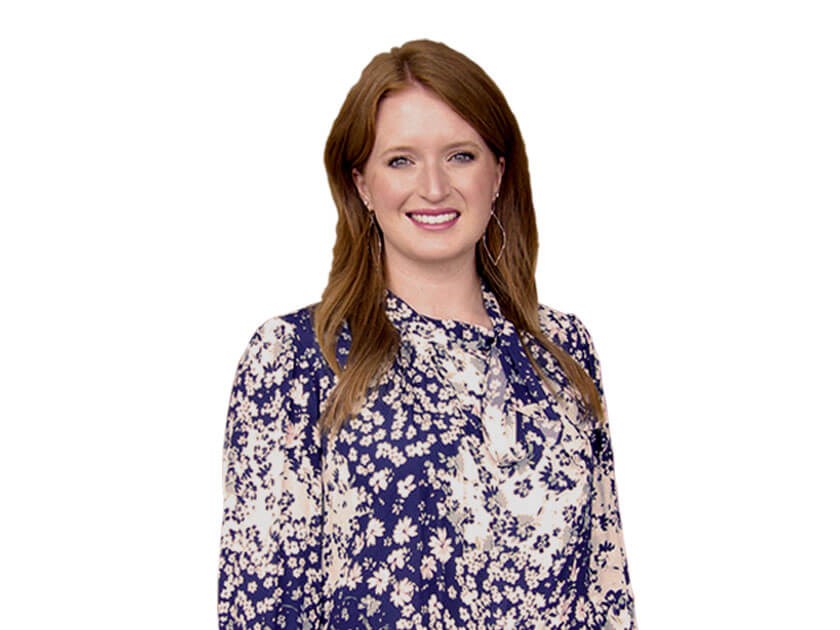 Dr. Russell is a native of Tupelo, MS and daughter of Dr. Richard Caron. She graduated from Tupelo High School in 2012. She and her husband Will are both graduates of Ole Miss, where she received her Bachelor of Arts in Biochemistry and graduated from the Sally McDonnell Barksdale Honors College. Dr. Russell then moved to Jackson, MS where she received her Master of Science in Biomedical Science and Doctor of Dental Medicine. After receiving her dental degree from University of Mississippi Medical Center School of Dentistry, she and her husband were excited to move back to Northeast Mississippi to make it their home. Dr. Russell is a member of the American Dental Association, Academy of General Dentistry and Mississippi Dental Association.
She hopes to make her patients feel comfortable and confident with their dental care. She loves working with children and families, and is excited to cultivate lasting relationships with her patients. Dr. Russell and her husband Will have a puppy named Pepper and are eager to start their lives in Tupelo and support their local community. Her areas of interest are working with children and families, prosthodontics, endodontics, restorative, and cosmetic dentistry.
Dr. Russell is a certified Invisalign Provider. She is certified by the American Academy of Facial Esthetics to do Botox/neuromodulators and dermal fillers.
Her personal interests are cooking, exercising and spending time with family and friends.
Reviews
"Dr. Caron and staff are top notch and very professional. They're very helpful and polite. The environment is soothing and pleasant. They do exceptional dentistry. I'm so thankful for them."
J.M.
Google
"My son recently had a dental emergency and they got us in quickly. They were very accommodating and took great care of him. The staff is great and Dr. Caron does a fantastic job. I would highly recommend Tupelo Smiles for all of your dental needs."
B.R.
Google
"Dr. Russell and her staff have provided outstanding care for me. I am more relaxed and confident in my dental care due to her expert knowledge and investment in my treatment plan. I absolutely have fears going to the dentist's office but Dr. Russell and her staff have helped me overcome many of these fears."
M.S.
Google
"Been going here for years. Dr Caron is amazing! Staff is awesome! Recommend 10 out of 10!"
C.B.
Facebook
"Tupelo Smiles is absolutely wonderful.. ALL of the people that work there are extremely nice and compassionate.. including the 3 dentists that work there. They have a super nice office with a lot of new technology. I see Dr. Caron, and he is by far the best and most compassionate dentist I have ever seen. I've seen Dr. Kenny twice, and he is absolutely wonderful. I've seen Dr. Russell once, and she is fantastic as well. I've already told my family to switch to Tupelo Smiles, and they love Tupelo Smiles just like I do. If you're looking for a great dentist, I strongly urge you to go to them. Like I said earlier, all 3 of the dentists are wonderful and so is everyone that works there. I promise you will not regret going there, and it does not matter which dentist you see because they're all great. I hope this review really helps someone."
K.N.
Google
Related Posts